---
If you are a wooden boat builder, owner or just want to be -- this web site is for you. You are invited to register for an account and create a Builder's Blog or Log Book for your boat. You can also upload photographs and participate in wooden boat discussion forums.
Registration is free and the web site is free and easy to use. You don't have to know how to create web pages to have your own boat blog. Your name and email address will never be sold or given away. The site is funded by the sponsors listed on the right side the web page. I maintain WoodenBoatBlog.com as a hobby. I hope you'll enjoy it as much as I have. -- Paul Nelson (paul@pnelson.us)
Read more for info on joining the site.
NOTE: We want you to upload photos! The web site will resize your photos so that they are no larger than 350 pixels wide. This is the best size for displaying in your post. Tutorial for adding photos... <<< watch this! It will help. ;-)
It has been nearly two years since my last entry. Two things happened to slow the project. A partially reassembled Coot Amphibian N29DW came up for sale. This aircraft had been flipped, causing the main and aux spars to be cracked. The spars have been replaced but the ribs and skins were not reassembled on the airplane. The price was acceptable and my A&I mechanic agreed to open up some space in his shop for us to work on it together. So N29DW was crated in a container truck and shipped from Minnesota to Virginia.

Oh my bad, I left you all hanging back in May. Did I get the boat launched? Did it float? I am happy to report that yes I did get to launch my boat in June and yes it did float. I have been having almost too much fun this summer with the boat and I just couldn't get around to finding the time, organizing my pictures or thoughts to update my blog.
Let me start where I left off though as it was a very frantic few weeks from my last blog post to getting the boat in the water. First was getting the cabin door in place and putting the helm box together so that the marine shop would have a place to mount the steering and controls for me.
Our gorgeous restored 1902 Herreshoff Buzzards Bay 30 Wachiwi is back in the water here in Belfast and will be rigged tomorrow. She can't wait to set sail again with her owner. The whole harbor looks better with her at the docks, and it sure looks great to see a Victorian vessel docked here in the beautiful Victorian town of Belfast, Maine.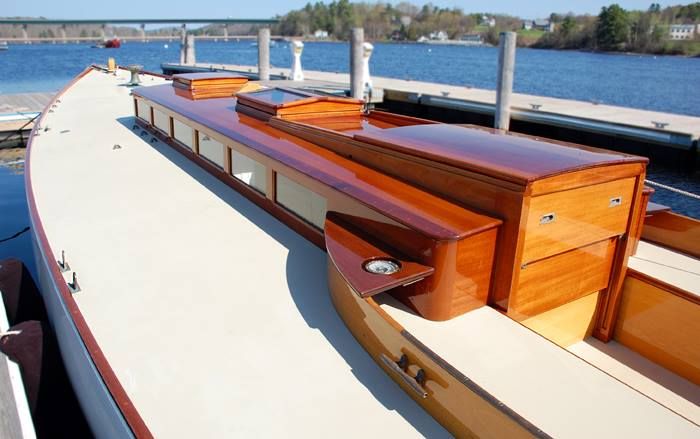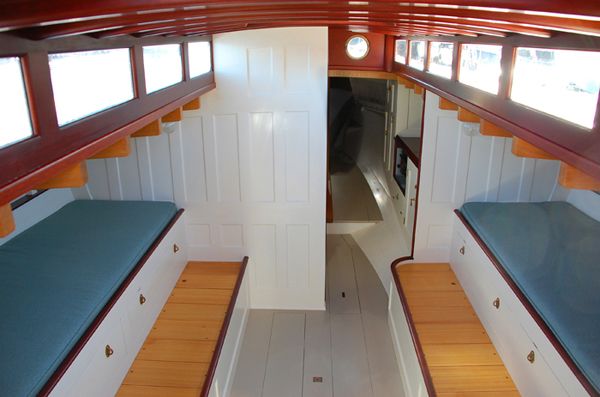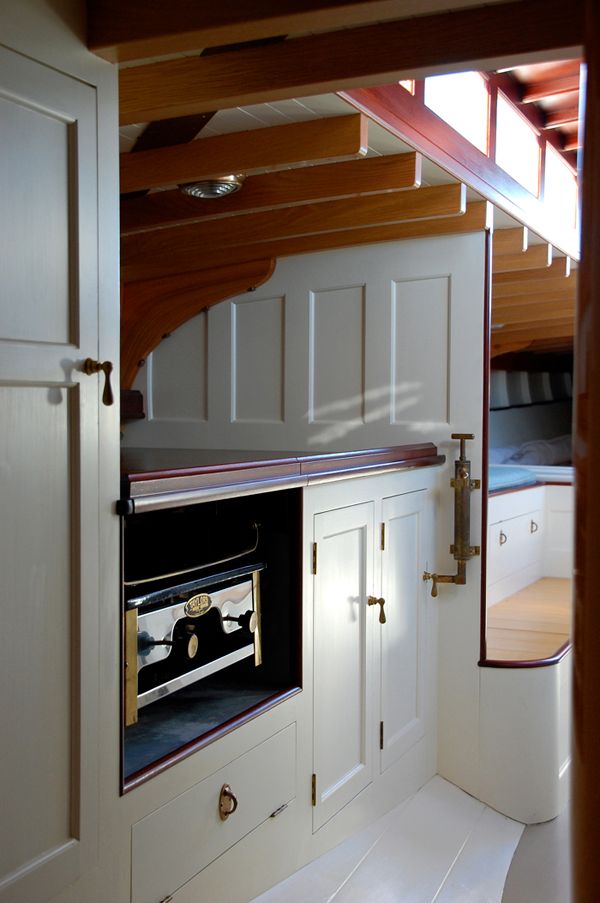 When I went to the Boat Show earlier in the year I put a deposit onto a motor, a Evinrude 75hp 2 stroke. I mentioned to them what I was putting it onto and the gentleman there told me I had better check my transom height as most of those old boat plans are made for the short shaft motor which isn't common anymore. When I got home I measured my transom and sure enough it is cut out for the short shaft and I needed to add at least 4 inches to the height. So if anyone out there is thinking of putting a boat together double check the plans for the transom height to ensure you cut it out to match the motor you will be getting.
Been hard at work getting the interior painted. Not going to say much other than I am one step closer and glad it is done. Cutting all of the edges and corners on the battens, frames, sheers, chines, stem,butt joints, cabinetry inside and outside took longer than the actual painting.
There is still some more finishing details to be done on the inside, but the bulk of it is taken care of and I can work on the rest at my leisure. Just want to get it usuable before summer time.
We will be building all new custom orders for the superb new daysailer designed by Chuck Paine. The PAINE 14 is a scaled-down adaptation of the venerable and much-loved Herreshoff 12 ½ with a fin keel and separate rudder for more lively performance.? She is available in beautifully detailed fiberglass with exquisite varnished mahogany trim, or equally beautifully detailed hand-built WEST epoxy cold-molded wood. ?At approximately half the weight of the original 12 ½ and about 10% smaller in length, breadth and depth, she preserves some of the "big boat" feel of her predecessor ?thanks to a lead ballast keel that accounts for nearly half her entire weight, but is optimized for easy trailering, maintenance, launch and retrieval. ?Click here for more information: http://frenchwebb.com/paine-14-daysailer/
Happy 2014 everyone! I took November and December off, except to tear down the temporary structure I had built over my parking spot. It is now January 2014 and I am ready to get back at her and see if I can finish her off in time for the summer.
After I took my structure down I covered her up with a new heavy duty tarp. It helps keep it warm and dry inside while I am working on the interior of the cabin, with the help of a little portable heater. Which you can see here in my empty cabin.
West Systems has the most complete and well-written collection of user guides out there for boat builders. This is one link you should have in your bookmarks.
;-) Paul
Well the last month has been a flurry of activity trying to get the top finished off and painted before the cold weather really hits and I am glad to report I got it done.
Last post I had put up the bulkheads and it was time to get started on building the roof, which involved putting up the roof beams and supports along the cabin sides.
The windshield was sure a project in patience. Freaked me right out as the instructions said to use dowels to join the pieces together which adds a level complexity.
Somehow I managed to get them together fairly well, and then as I started to fair and shape them to fit I noticed I was planing through some of the dowels. Guess that is why I couldn't just screw them together.