---
If you are a wooden boat builder, owner or just want to be -- this web site is for you. You are invited to register for an account and create a Builder's Blog or Log Book for your boat. You can also upload photographs and participate in wooden boat discussion forums.
Registration is free and the web site is free and easy to use. You don't have to know how to create web pages to have your own boat blog. Your name and email address will never be sold or given away. The site is funded by the sponsors listed on the right side the web page. I maintain WoodenBoatBlog.com as a hobby. I hope you'll enjoy it as much as I have. -- Paul Nelson (paul@pnelson.us)
Read more for info on joining the site.
NOTE: We want you to upload photos! The web site will resize your photos so that they are no larger than 350 pixels wide. This is the best size for displaying in your post. Tutorial for adding photos... <<< watch this! It will help. ;-)
Hello All!!
My father, brother-in-law, and I have recently started this project of restoring a 1956 Helton Wood Boat that my father has had sitting in his yard for some years
.
We decided to start from the bottom up with the original Tilt O Matic trailer...
This is the top of the Tilt O Matic trailer. This is to be sanded, Phospho treated, and then painted an International Red since my father is an "old" engine and tractor buff
.
This used to be an old 50's Green which had all but coroded away. Fortunately the green is still on the boat and looks in pretty good shape to keep.
I started by laying out an ordinate table for the GA35A415 Long Coot (LC) wing at 75 inches long. This information gave me a maximum wing thicness of 11.244" at station 26.25", or 35% of wing chord length. Subtracting 1/8 for each wing skin gives me a maximum main spar height of 10.994 inches. This is the outside dimension the spar is to be made.
OK, so blogging the build didn't work so well, but I have built the boat, and it does float.
Anyway, much talk on this and other forums about polytarp vs. traditional sails.
So here I have a few photos of the finished sail, at some point I will dig out the photos of building it too, if anyone is interested.
I built my sail using polytarp, double sided tape, and gaffer tape - no sewing. I built it by cutting the polytarp into bolts the way other sail materials are usually supplied, and then broadseeming it in the traditional manner.
So the garage is built, but still needs some items... The camper is on hold for now... I am proceeding to start construction on the wings. This is where Molt Taylor suggested starting the Coot, and since the Long Coot is going to need a new wing anyway, this is a great place to start. The wngs take up less space than the hull or the camper, and I can work on them as I finish other things necessary around the shop.
The Coot wing chord is 5 feet and the Long Coot chord will be 25% longer, 6.25 feet long. Using the basic idea of increasing the length by 25% and increasing the weight by 50%, puts design gross weight at 2800 and the overall length at 28 feet. Using a designed empty weight of 1800 leaves 1000 pounds of usefull load. Rounding weight up to 3000, gives a useful load of 1200 pounds. So 3000 is the desiged gross weight. The standard load test of 3.8Gs would give a test load of 11,400 pounds, and load testing a the utility category of 4.5Gs puts the test load on the completed wing assembly at 13,500 lbs. At this rating the wing will be overbuilt by 18.4%. A nice overbuild for safety.
Took the bottom panel off, through some epoxy on it and screwed her into place fairly easily, I guess sitting in that position over winter did help some.
Need to clean up the bow section a bit so I can have the next bottom panel over lap the first one.
To assist with the bends on these two bottom pieces at the bow I left towels on the wood for a few days pouring hot water on them in the mornings and evenings. I would some heavy duty straps to help bend the wood to get it into place.
We are building a glass bottom boat in Belize to be used in a new tour company. We will take people on tours out over the reef. Belize is home to the second largerst reef in the world and is spectacular.
I will try to post pics that will document our progress as we build this boat. It is 30' x 12' and will be constructed out of Belizian mahogany. We will use the cold mold method or a modification of such.
Norman Eiley is my main man in Belize and has been building wooden boats since he was 13. This is my first boat build ever.
This first photo is of our 1/30 scale model.
Here's a time-lapse video showing the past couple months here as we've started building a new 39' wooden picnic boat:
A view of the cold-molded process of traditional wooden boat building: the molds are being set up to build the hull over. The hull will then be flipped right-side up, taken off the molding, and placed on the keel for the rest of the work.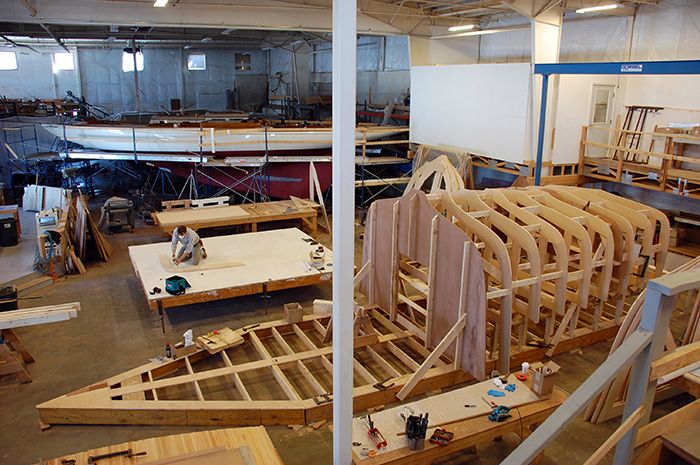 Just attended the annual Vancouver Boat Show over weekend here and it is nice that it starts this early in the year as it gets you excited about the upcoming season. I am sure real boat owners (I am not one yet) that attended the show will be running down to their boats over the next few weeks cleaning things up and getting ready for the 2013 cruising season. Myself, well I came home and got really excited about my Sea Knight project.
We had a pretty mild winter up here in the Pacific Northwest and I am hoping Mother Nature is not teasing me but we might have a decent spring as well. As I write this the East cost just got hammered the last couple of days with 2+ feet of snow, meanwhile we have Daffodiles sprouting and rose bushes showing new greenery. Still it is not warm enough here yet to use epoxy outdoors and that is where my project is. I can still do some dry fitting until it does warm enough in the evenings.
My last post was way back at the beginning of September and I definitely didn't get as far as I had hoped. But I will catch you up on how far I was able to get.