Photos
---
Here's our 37' daysailer last fall: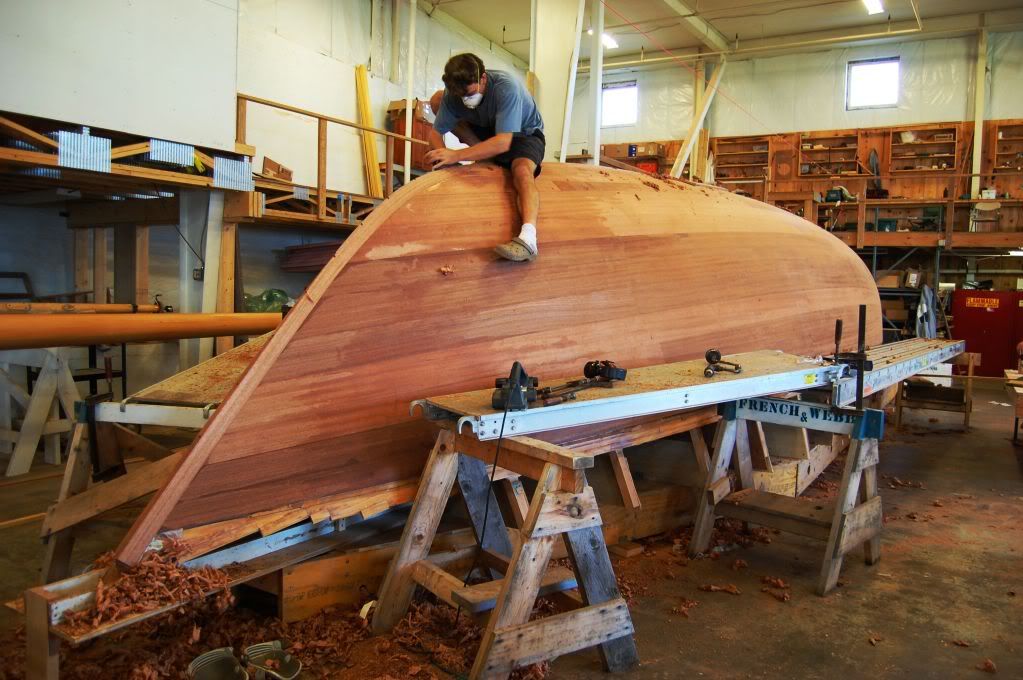 And here she is this summer:
Love this website and hope that my restoration will help someone with their old boat or perhaps cause someone to look at my photos and give me some pointers on anything they see. You can follow my progress of restoration at www.oldboatmadenew.blogspot.com
As you may have guessed, we rather love our little boat. Cygnus Vedrae was built from a 1940's design and is still going strong for a 'modern' design. Here are a few advertising pictures for her class from the late 1940's and the early 50's. I mentioned in a previous post that the first one in the class, 'Shirin', had been sold to the government of the Shah of Persia. Here is a picture of her as she was launched.
The internal layout of 'Sirin' is completely different to Cygnus, and the engine is a David Brown 25hp, rather than our 30hp Coventry Godiva.
Here is an advert for two more Wilson boats from the same period.
I would have loved ours to have had the twin engines, but hey ho.
We also have this kind of Rosewood Dragon Boat gifts . Dragon for china have many different meanings , With thousands of years of history. Welcome to our webpage to see more ( www.zlynn.com ). Let's enjoy it .
Here I am very appreciate to give some Chinses traditional wooden boat models to you. I think the Most of the model with Chinese characteristics is The Black-Awning Boat , Until today, still have some Chinese people's life in such a boat .
       Today I want to introduce you the new style wooden boat from China.
        In China, There are so many rivers . So there are many Chinese folk feature boats , I sure many of the vistors of the wooden boat blog haven't saw these before . So Then I will introduce some Chinese traditional wooden boats to you. Hope you'll like and enjoy it . Also Welcome to China to see it !
This is my first build and I am attempting a Toto double paddle canoe/kayak.  I have opted for 1/4" ply Aquatek as a base which should be good for years to come.  I have opted to use fiberglass resign in lieu of epoxy for budget reasons.  Reading the differences between the resins, I know epoxy is much better but I believe it will hold up for what I plan to use it for.
The gunwhales are made of red cedar.  I simply ran them on a table saw out of a 2x4 from my local buidling supply store.  Brass screws here and there.  A few pine blocks to hold the vertical interior dividers.
Any thoughts on my choice of material?  Does it look ok?
 I am planning on putting an outer coat of Spar Urethane (maybe three coats) for added protection.  Is this a good idea?
The hull is 18 feet 1 inch long and 5 feet 1 inch wide and has a squat, classic whale boat type shape.  Topsides to keel is no more than 22 to 23 inches.  The center board should not draw more than 2 feet and is ballasted internally with cement set around the centerboard slot.  All internal bulkheads and seats are wood coated with glass.  The hull may be wood covered with glass or just glass.Mast stay rigging is still attached to the topsides and a modern swivle main sheet cleat is still attached to a center cross- beam.The boat has dimensions similar to a Rhodes marlin, but it is not a
Today we all showed up at Joe's house south of Portland to turn his 18' Tolman Skiff. It only weighed about 500lbs so it was a usual Tolman turning, a few minutes of work and lots of boat looking.
Joe has done a fine job. His graphite bottom is smooth and shiny and he did a great job of fairing the seams. His attention to detail will make the rest of the job go fast. The usual length for the Tolman Standard skiff is 20ft. but Joe's is only 18'. Everyone agreed that the boat looked great and this was going to be one good working skiff.


After the turning and mandatory hour of boat looking and talk, we all settled down to a feast of taco salad and other goodies. See more photos...
Here's my duckboat, the Peregrine. I designed and built her myself. I couldn't find a professionally designed boat out there that filled my needs, and there's still not one. There are a lot of great duck skiffs out there, Devlin has several, and recently, Jacques Mertens finally designed one, the DS15, which should be a great boat. Problem is they are V bottom boats, and I and just about everyone that hunts in South Louisiana needs a flat bottom boat. Gatorboats had the Duckhunter, another good boat, but it doesn't plane well. So I designed my own. Here are a couple of other pics: