Photos
---
TKO 15' Speedboat DRAFT 1 - Comments welcome
Length overall = 15′
Beam = 2,088 m / 6′ - 8″
Depth = 0,753 m / 2′ 6″
Draft = 0,248 m / 10″
Displacement = 1102 lbs. estimated
Hull weight = 485 lbs. estimated
Passengers = up to 5
Outboard = 25 - 90 HP
We will be building all new custom orders for the superb new daysailer designed by Chuck Paine. The PAINE 14 is a scaled-down adaptation of the venerable and much-loved Herreshoff 12 ½ with a fin keel and separate rudder for more lively performance.? She is available in beautifully detailed fiberglass with exquisite varnished mahogany trim, or equally beautifully detailed hand-built WEST epoxy cold-molded wood. ?At approximately half the weight of the original 12 ½ and about 10% smaller in length, breadth and depth, she preserves some of the "big boat" feel of her predecessor ?thanks to a lead ballast keel that accounts for nearly half her entire weight, but is optimized for easy trailering, maintenance, launch and retrieval. ?Click here for more information: http://frenchwebb.com/paine-14-daysailer/
OK, so blogging the build didn't work so well, but I have built the boat, and it does float.
Anyway, much talk on this and other forums about polytarp vs. traditional sails.
So here I have a few photos of the finished sail, at some point I will dig out the photos of building it too, if anyone is interested.
I built my sail using polytarp, double sided tape, and gaffer tape - no sewing. I built it by cutting the polytarp into bolts the way other sail materials are usually supplied, and then broadseeming it in the traditional manner.
We are building a glass bottom boat in Belize to be used in a new tour company. We will take people on tours out over the reef. Belize is home to the second largerst reef in the world and is spectacular.
I will try to post pics that will document our progress as we build this boat. It is 30' x 12' and will be constructed out of Belizian mahogany. We will use the cold mold method or a modification of such.
Norman Eiley is my main man in Belize and has been building wooden boats since he was 13. This is my first boat build ever.
This first photo is of our 1/30 scale model.
The gorgeous 1902 47' Herreshoff Buzzards Bay 30 Sloop Quakeress II, which we completely restored in 2008, is back home in the shop for some TLC this winter.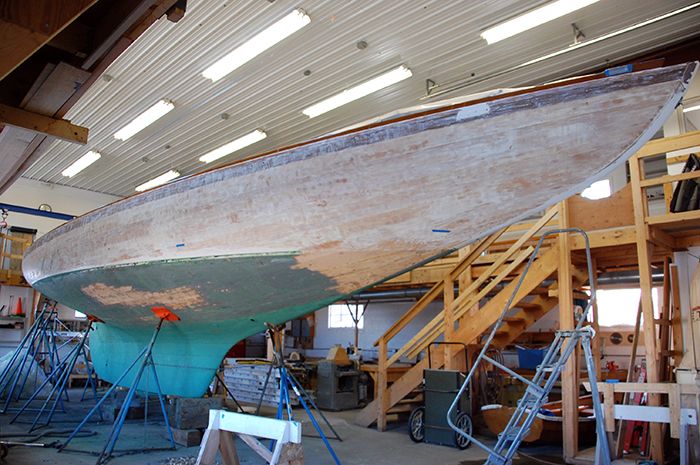 And here she is up-close at sail in this great little video made this summer off Nantucket:
Here is a small, 25 1/2" canoe I built in 2005. Took about 15 minutes a day on breaks at work and was completed in 3 months.
A lot of detail in the small parts. Didn't follow a plan, but had a full size canoe in the shop to look at as a reference.
Tell me what you think of this.
I plan to build a full size "power boat" that will be 30+ feet here soon. Should start in in the next 6 months as I aquire all the hardwood I'll need.
Stay tuned.
And enjoy the photos from this little canoe. I've thought about building more of these, but it's SO labor intensive. What would something like this sell for? I'm curious.
Thanks for looking.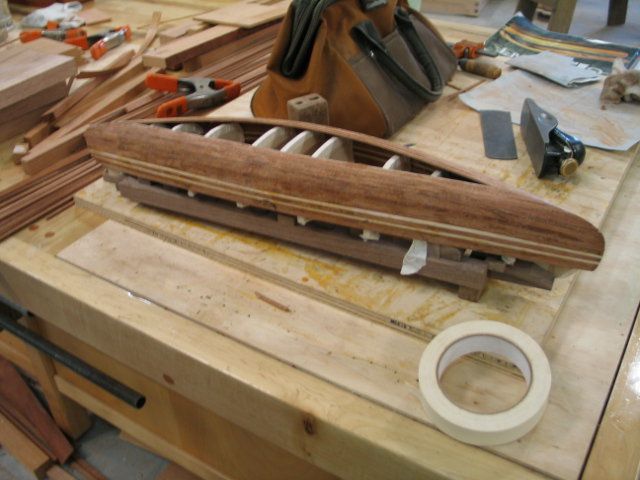 Our lovely restored Herreshoff Buzzard's Bay 30 Lady M took her last sail of the season yesterday afternoon. She's docked in the Belfast Bay harbor now waiting to be moved in for the winter. Very quiet and peaceful in the cabin.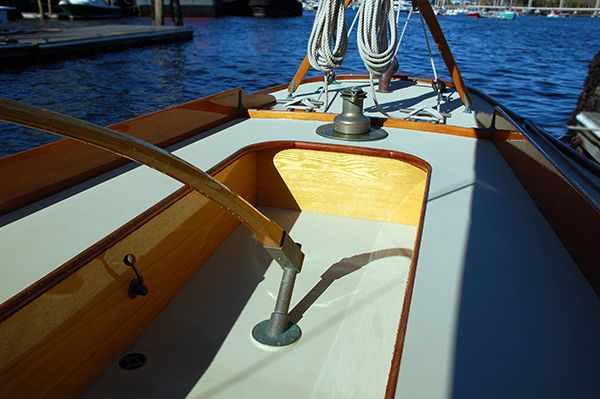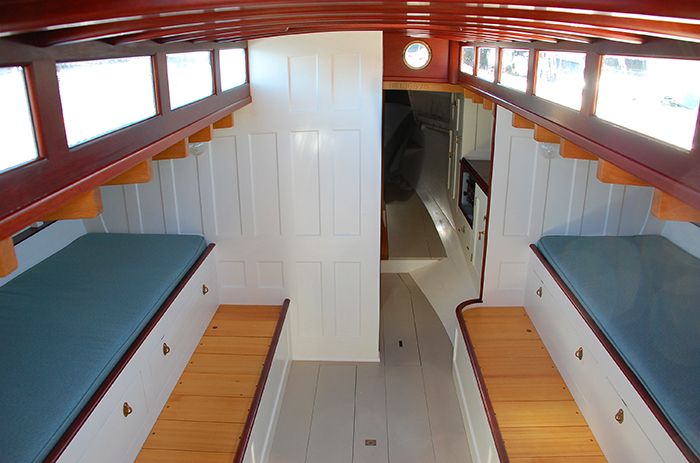 August 20th, 2012
Our newly restored 1930 Fife 8m sloop Quest, owned by Ronald & Diane Palm of Toronto, continued her impressive 2012 racing season this weekend, at Nantucket Racing Week. Quest not only won her own classic division race, but she also won the main event on Sunday – the 40th Opera House Regatta, and she took best overall for the racing week!
Quest is in the middle here with sail number CN1 in this photo by the Nantucket Inquirer & Mirror: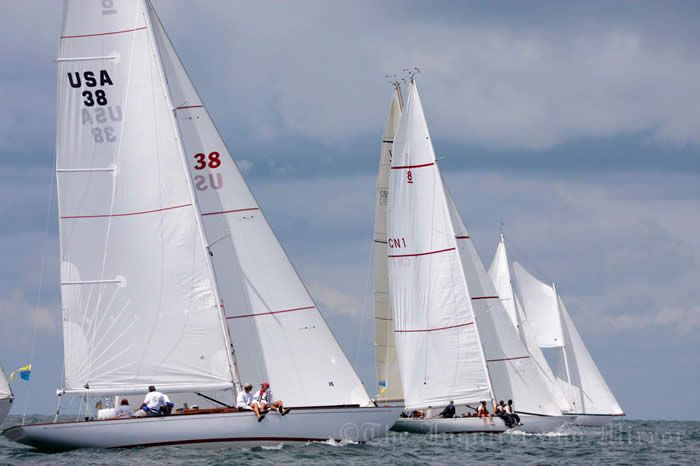 This is a restoration project we finished up. She's a 1929 Fife 8m we restored with racing in mind for her new owners. Turns out she's a quick one. She came in second in her first race of the season at the Toronto Royal Yacht Club last month.
The framing consists of Fife's favorite intermix of one sawn frame and two bent frames. In the restoration, we laid newly splined tight planking over those frames. The restoration included replacing the entire centerline structure, forefoot, keel, deadwood, and horn timber, as well as the transom, sheer planks and sheer clamps. We were presented with a typical Fife challenge in the form of lots of galvanized mild-iron floor and frame connections – all of which had to be replaced with bronze. The restoration also included restoring the 10,000 pound ballast to its originally designed form, constructing an entirely new deck frame and decks, and creating a new interior and cockpit. We completed the process by outfitting Quest with a new engine and new electrical, electronic, and mechanical systems.
Here's what she looked like early on -