---
Here's our 37' daysailer last fall: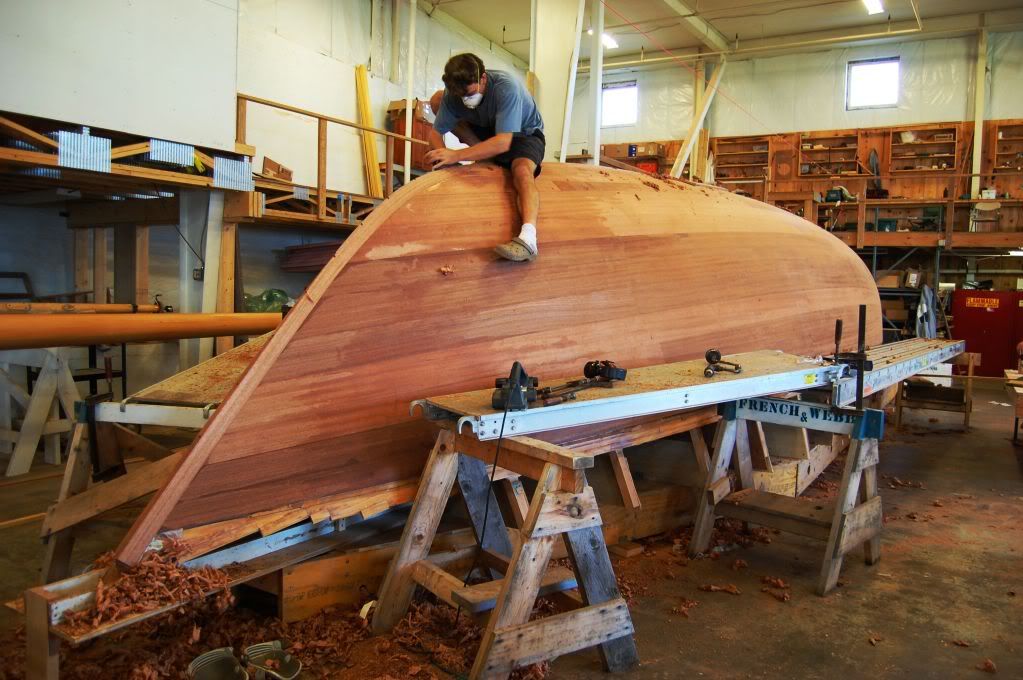 And here she is this summer:
Irie in her first regatta in a long time. She's all that we could have hoped for.
Follow along as Thistle 448 is restored on her blog at Thistle448.blogspot.com.
Does that look like more than $1000 of hardware? Given what it costs to rig a Thistle today vs. the last time I did this ten years ago, I should be investing in blocks and cleats. Forget gold and stocks!
I'm keeping things pretty simple but estimate that it will take more than $1500 to get this boat sailing. And that's with a sizable discount off of retail.
All of the woodwork on the boat is finished. I'm doing some final varnishing (will this ever end?) and should have all the rigging installed this week. I'm not going to schedule a launch party though until I have the rudder hung and CB finished. My ultimate deadline is still Districts that are now just two weeks away.
The letter below is a result of discussions and research on the Riblett wing as applied to the Coot amphibian. I am trying to select a modern airfoil for use on the long coot. I now see that I overlooked that the GA30-615 was used and have therefore looked seriously at the GA37A615 instead of the GA37-315. I will consider scaling the 615 down to 614, but I think this is the airfoil I want for the Long Coot. There are drag and moment reductions compared to the NACA 4415 used on the Coot and drag reductions compared to the GA30-615, with about the same lift available.
Dear Mr. Riblett
I have been reading your book GA Airfoils and was wondering if you could help me to better understand the airfoils and apply them to my application. I am writing you because I feel like you can see the air flow on the wings, just like Dale Earnhart was able to see the air flowing around a race car. That type of insight is rare and I like to consult with the best.
I had a discussion recently with Coot enthusiast about hull bottom design for the Coot Amphibian. I had suggested going to a progressive V hull like we talked about and using strakes to increase the lift. He warned be to be careful with strakes because they can be dangerous when landing in a crosswind. If the airplane is moving sideways when it touches the water, the outside edges of the strakes can dig in causing the airplane to yaw and roll violently perhaps resulting in an accident. He offered specific examples of this and suggested that I reconsider.
So I spent some time drawing bottom profiles at the step and hit on the idea of one-sided strakes. I have later come to realize that the progression of the hull would form a type of nested V design that could allow the aircraft to slide sideways somewhat during a crosswind landing before settling out and tracking straight. There is a sketch of this idea attached to this email.
Do you think the general idea is sound and that my proportions are about correct?
The upper drawing shows the inside intersection at 8" left and 8" right and the outer intersection at 9" left and 9" right.
Well, I have not been able to load any pictures onto this blog, so here is a ink to my google blog with pictures:
http://greatalaskanbuildersblog.blogspot.com/?m=1
Unfortunately, I cannot upload any pictures to this blog, so I created another blog at google blogspot. Feel free to check out the blog here"
http://greatalaskanbuildersblog.blogspot.com/
I have just about gotten my 40' x 20' temporary garage setup. This is where I will be actually building the boat. I also have a 30x20 woodshop that I will try to do the panel cutout and most of the other work in not related to actually hanging a panel. How much materials does it take to build the hull of the Great Alaskan out to 28'? Well, check the photos out!
My name is Jim Stancil and I am just starting to build the Great Alaskan. This boat is designed by Brian Dixon and is a variation on the Tolman Jumbo. I am building this boat near Daytona Beach Florida.
Unfortunately, I cannot upload any pictures to this blog, so I created another blog at google blogspot. Feel free to check out the blog here"
http://greatalaskanbuildersblog.blogspot.com/
It may not seem like a traditional color for a wooden boat but this blue will look great with the warm mahogany wood on the inside of the Thistle.
We're ready now to roll the boat back upright and will start finishing up the interior and installing hardware. It's time to get this boat on the water! My deadline is the PNW Thistle Districts, at Yale Lake - July 8-9
My goal for this Memorial day weekend was to get the System Three Silver Tip primer on. I was ready to paint Sunday night but as a rule, it's better to start projects like this at the beginning of the day when you're fresh so I waited.
This morning I spent two more hours with the long board. Your hands are more sensitive when you haven't been sanding for the last few hours and I was able to feel small lumps that were not there yesterday.
Anyway, the first coat of primer is on and it looks great. Now every pinhole, scratch and fault is all that more visible. I'll get to those with some glazing putty and prime again after a good sanding with 150.