---
Just attended the annual Vancouver Boat Show over weekend here and it is nice that it starts this early in the year as it gets you excited about the upcoming season. I am sure real boat owners (I am not one yet) that attended the show will be running down to their boats over the next few weeks cleaning things up and getting ready for the 2013 cruising season. Myself, well I came home and got really excited about my Sea Knight project.
We had a pretty mild winter up here in the Pacific Northwest and I am hoping Mother Nature is not teasing me but we might have a decent spring as well. As I write this the East cost just got hammered the last couple of days with 2+ feet of snow, meanwhile we have Daffodiles sprouting and rose bushes showing new greenery. Still it is not warm enough here yet to use epoxy outdoors and that is where my project is. I can still do some dry fitting until it does warm enough in the evenings.
My last post was way back at the beginning of September and I definitely didn't get as far as I had hoped. But I will catch you up on how far I was able to get.
The gorgeous 1902 47' Herreshoff Buzzards Bay 30 Sloop Quakeress II, which we completely restored in 2008, is back home in the shop for some TLC this winter.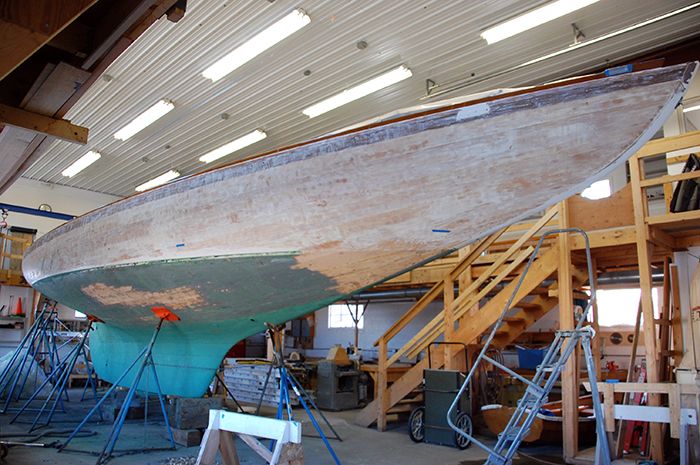 And here she is up-close at sail in this great little video made this summer off Nantucket:
I have taken a stab at modeling in clay and wood sculpture because a 3d object is very descriptive to the mind. I want to build a 2 stage, nested, progressive Vee hull as the basis of the Long Coot Amphibian's high speed water handling characteristics. I have some 2D sketches of the step that appear to channel the outward flow of water properly to create lift and separation thus reducing the cantact footprint of the hull to about 25-33% of total hull volume and reducing power required as the boat accelerates to flying speed. The nested hull has proven difficult for me to duplicate in clay or wood carving (likely due to my lack of skill as a sculptor) so as to create a decent hull form capable of extrapolating templates. This led me to look for alternative methods of modeling.
Here is a small, 25 1/2" canoe I built in 2005. Took about 15 minutes a day on breaks at work and was completed in 3 months.
A lot of detail in the small parts. Didn't follow a plan, but had a full size canoe in the shop to look at as a reference.
Tell me what you think of this.
I plan to build a full size "power boat" that will be 30+ feet here soon. Should start in in the next 6 months as I aquire all the hardwood I'll need.
Stay tuned.
And enjoy the photos from this little canoe. I've thought about building more of these, but it's SO labor intensive. What would something like this sell for? I'm curious.
Thanks for looking.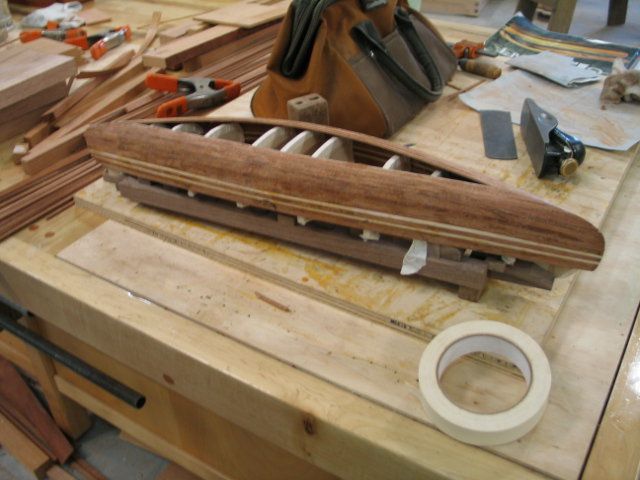 Our lovely restored Herreshoff Buzzard's Bay 30 Lady M took her last sail of the season yesterday afternoon. She's docked in the Belfast Bay harbor now waiting to be moved in for the winter. Very quiet and peaceful in the cabin.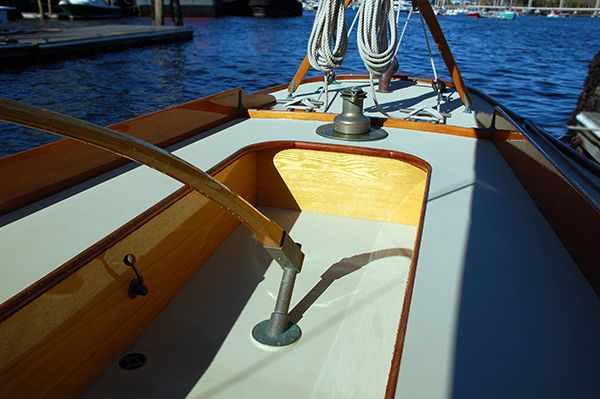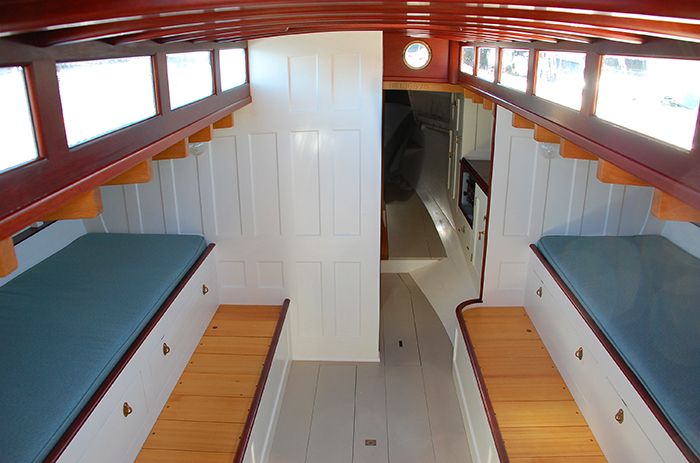 Quest wins Nantucket and Newport Classic Regattas
Over the September 1-2 Labor Day weekend, the 1930 yacht Quest won the Museum of Yachting Classic Yacht Regatta in Newport, Rhode Island. Quest, a Fife 8 meter recently restored by boat builders French & Webb of Belfast, Maine, also won the Opera House Cup on August 19th in Nantucket, Massachusetts.
The two Regattas were part of the Panerai Classic Yachts Challenge's North American Circuit, which also included the Corinthian Classic Yacht Regatta in Marblehead, Massachusetts on August 11-12th. Each regatta typically attracts 50-60 of the East Coast's most magnificent classic sailing vessels as well as some classic beauties from around the world.
August 20th, 2012
Our newly restored 1930 Fife 8m sloop Quest, owned by Ronald & Diane Palm of Toronto, continued her impressive 2012 racing season this weekend, at Nantucket Racing Week. Quest not only won her own classic division race, but she also won the main event on Sunday – the 40th Opera House Regatta, and she took best overall for the racing week!
Quest is in the middle here with sail number CN1 in this photo by the Nantucket Inquirer & Mirror: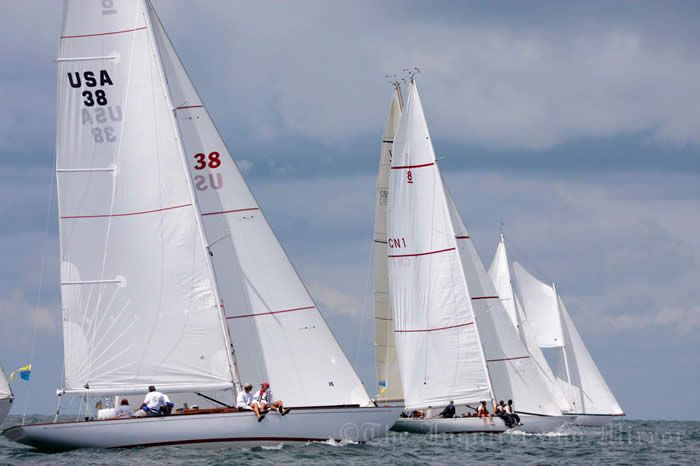 Gotta love summer time!
Sure wish I had a boat to enjoy it with ... sigh
Right, I'm supposed to be building one for these long wonderfull days of summer. I can tell you I had a schedule in my mind when I started this of where I should be at different times of 2012 and I am quite a bit behind schedule. Nonetheless, the overall goal is to have it ready for summer 2013.
Hard to stay on track when the sun finally heats up Canada and starts to dry out the Wet Coast here. Did some camping trips and an island trip (to Galiano Island) with my better half. Spent 5 days on Saturna Island with some friends building a ramp and a deck at cottage for one of them. I have an annual fishing derby (at least that is what my buddies and I call it) that I put together coming up soon. All sorts of things to distract me from my project and I would not change a single thing.
My hope is to at least be able to paint the hull before it starts to get too cold which should give me till sometime in October hopefully. I have gotten a fair amount done but I do think I need to be a bit more diligent as the days get shorter.
This is a restoration project we finished up. She's a 1929 Fife 8m we restored with racing in mind for her new owners. Turns out she's a quick one. She came in second in her first race of the season at the Toronto Royal Yacht Club last month.
The framing consists of Fife's favorite intermix of one sawn frame and two bent frames. In the restoration, we laid newly splined tight planking over those frames. The restoration included replacing the entire centerline structure, forefoot, keel, deadwood, and horn timber, as well as the transom, sheer planks and sheer clamps. We were presented with a typical Fife challenge in the form of lots of galvanized mild-iron floor and frame connections – all of which had to be replaced with bronze. The restoration also included restoring the 10,000 pound ballast to its originally designed form, constructing an entirely new deck frame and decks, and creating a new interior and cockpit. We completed the process by outfitting Quest with a new engine and new electrical, electronic, and mechanical systems.
Here's what she looked like early on -