Blogs
---
OK, so blogging the build didn't work so well, but I have built the boat, and it does float.
Anyway, much talk on this and other forums about polytarp vs. traditional sails.
So here I have a few photos of the finished sail, at some point I will dig out the photos of building it too, if anyone is interested.
I built my sail using polytarp, double sided tape, and gaffer tape - no sewing. I built it by cutting the polytarp into bolts the way other sail materials are usually supplied, and then broadseeming it in the traditional manner.
So the garage is built, but still needs some items... The camper is on hold for now... I am proceeding to start construction on the wings. This is where Molt Taylor suggested starting the Coot, and since the Long Coot is going to need a new wing anyway, this is a great place to start. The wngs take up less space than the hull or the camper, and I can work on them as I finish other things necessary around the shop.
The Coot wing chord is 5 feet and the Long Coot chord will be 25% longer, 6.25 feet long. Using the basic idea of increasing the length by 25% and increasing the weight by 50%, puts design gross weight at 2800 and the overall length at 28 feet. Using a designed empty weight of 1800 leaves 1000 pounds of usefull load. Rounding weight up to 3000, gives a useful load of 1200 pounds. So 3000 is the desiged gross weight. The standard load test of 3.8Gs would give a test load of 11,400 pounds, and load testing a the utility category of 4.5Gs puts the test load on the completed wing assembly at 13,500 lbs. At this rating the wing will be overbuilt by 18.4%. A nice overbuild for safety.
Took the bottom panel off, through some epoxy on it and screwed her into place fairly easily, I guess sitting in that position over winter did help some.
Need to clean up the bow section a bit so I can have the next bottom panel over lap the first one.
To assist with the bends on these two bottom pieces at the bow I left towels on the wood for a few days pouring hot water on them in the mornings and evenings. I would some heavy duty straps to help bend the wood to get it into place.
We are building a glass bottom boat in Belize to be used in a new tour company. We will take people on tours out over the reef. Belize is home to the second largerst reef in the world and is spectacular.
I will try to post pics that will document our progress as we build this boat. It is 30' x 12' and will be constructed out of Belizian mahogany. We will use the cold mold method or a modification of such.
Norman Eiley is my main man in Belize and has been building wooden boats since he was 13. This is my first boat build ever.
This first photo is of our 1/30 scale model.
Here's a time-lapse video showing the past couple months here as we've started building a new 39' wooden picnic boat:
A view of the cold-molded process of traditional wooden boat building: the molds are being set up to build the hull over. The hull will then be flipped right-side up, taken off the molding, and placed on the keel for the rest of the work.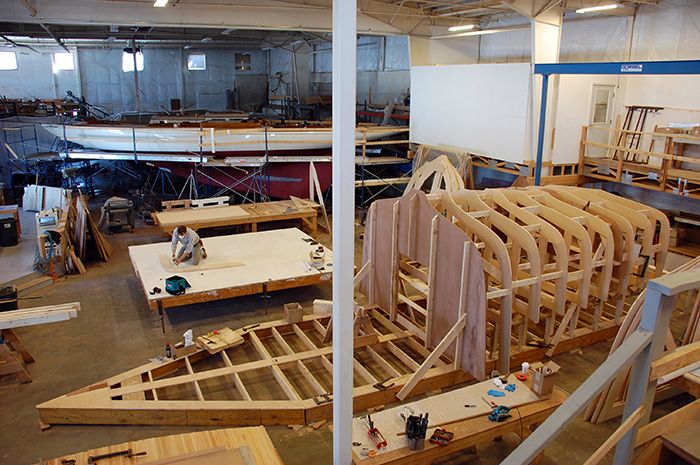 Just attended the annual Vancouver Boat Show over weekend here and it is nice that it starts this early in the year as it gets you excited about the upcoming season. I am sure real boat owners (I am not one yet) that attended the show will be running down to their boats over the next few weeks cleaning things up and getting ready for the 2013 cruising season. Myself, well I came home and got really excited about my Sea Knight project.
We had a pretty mild winter up here in the Pacific Northwest and I am hoping Mother Nature is not teasing me but we might have a decent spring as well. As I write this the East cost just got hammered the last couple of days with 2+ feet of snow, meanwhile we have Daffodiles sprouting and rose bushes showing new greenery. Still it is not warm enough here yet to use epoxy outdoors and that is where my project is. I can still do some dry fitting until it does warm enough in the evenings.
My last post was way back at the beginning of September and I definitely didn't get as far as I had hoped. But I will catch you up on how far I was able to get.
The gorgeous 1902 47' Herreshoff Buzzards Bay 30 Sloop Quakeress II, which we completely restored in 2008, is back home in the shop for some TLC this winter.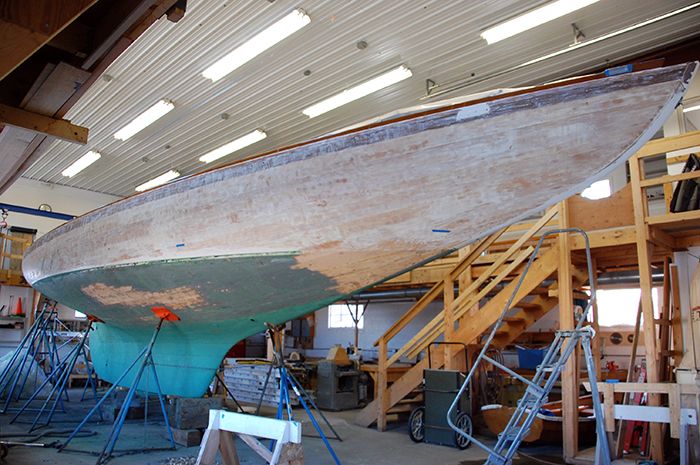 And here she is up-close at sail in this great little video made this summer off Nantucket:
I have taken a stab at modeling in clay and wood sculpture because a 3d object is very descriptive to the mind. I want to build a 2 stage, nested, progressive Vee hull as the basis of the Long Coot Amphibian's high speed water handling characteristics. I have some 2D sketches of the step that appear to channel the outward flow of water properly to create lift and separation thus reducing the cantact footprint of the hull to about 25-33% of total hull volume and reducing power required as the boat accelerates to flying speed. The nested hull has proven difficult for me to duplicate in clay or wood carving (likely due to my lack of skill as a sculptor) so as to create a decent hull form capable of extrapolating templates. This led me to look for alternative methods of modeling.
Here is a small, 25 1/2" canoe I built in 2005. Took about 15 minutes a day on breaks at work and was completed in 3 months.
A lot of detail in the small parts. Didn't follow a plan, but had a full size canoe in the shop to look at as a reference.
Tell me what you think of this.
I plan to build a full size "power boat" that will be 30+ feet here soon. Should start in in the next 6 months as I aquire all the hardwood I'll need.
Stay tuned.
And enjoy the photos from this little canoe. I've thought about building more of these, but it's SO labor intensive. What would something like this sell for? I'm curious.
Thanks for looking.