Blogs
---
This 25 footer may look like a Chris Craft, but it was made in 2002
In Board V8
CANADIAN ELECTRIC- 16 foot - Table for 4
Single lever - EZ Stearing
Minn Kota Electric Motor
Variable Speed Control
6-8 hours of water time on full charge
Bilge Pump
Pioneer Sound System
Bow and Stern Flags
Karavan Custom Trailer
TKO 15' Speedboat DRAFT 1 - Comments welcome
Length overall = 15′
Beam = 2,088 m / 6′ - 8″
Depth = 0,753 m / 2′ 6″
Draft = 0,248 m / 10″
Displacement = 1102 lbs. estimated
Hull weight = 485 lbs. estimated
Passengers = up to 5
Outboard = 25 - 90 HP
Well I'm new here and I did build a "6 hour canoe" that I figured out several years ago, but it's become damaged to the point of not being worth rebuilding, so I decided to design and build something a little different. It's an S&G design "canyak', for lack of a better word. The pirogue served it's purpose and I enjoyed building as well as using it, but it had a learning curve when it came to using it. After looking ad quite a few other designs out by different designers, I decided what I'm looking for.
Friends:
I am making a one-for-one replacement companionway door for my daughter and son-in-law's motor cruiser. The existing door is made of teak and features stainless steel hardware. Image 49 shows the existing door in its closed position. Image 50 shows the door in its open position. Image 54 shows the basic construction, rails and stiles joined by tenons with the panels fitted into rabbets in the frame pieces. Images 52 and 56 show the dilapidated state of the door.
I am planning to make new rails and stiles from teak and to reuse the panels from the existing door. The panels are in reasonable shape and can be restored by sanding and scraping. I am planning to reuse as much of the hardware as I can, probably only having to replace the fasteners. The owners requested that I keep the folding door design rather than make a rigid one-piece replacement door.
It has been nearly two years since my last entry. Two things happened to slow the project. A partially reassembled Coot Amphibian N29DW came up for sale. This aircraft had been flipped, causing the main and aux spars to be cracked. The spars have been replaced but the ribs and skins were not reassembled on the airplane. The price was acceptable and my A&I mechanic agreed to open up some space in his shop for us to work on it together. So N29DW was crated in a container truck and shipped from Minnesota to Virginia.

Oh my bad, I left you all hanging back in May. Did I get the boat launched? Did it float? I am happy to report that yes I did get to launch my boat in June and yes it did float. I have been having almost too much fun this summer with the boat and I just couldn't get around to finding the time, organizing my pictures or thoughts to update my blog.
Let me start where I left off though as it was a very frantic few weeks from my last blog post to getting the boat in the water. First was getting the cabin door in place and putting the helm box together so that the marine shop would have a place to mount the steering and controls for me.
Our gorgeous restored 1902 Herreshoff Buzzards Bay 30 Wachiwi is back in the water here in Belfast and will be rigged tomorrow. She can't wait to set sail again with her owner. The whole harbor looks better with her at the docks, and it sure looks great to see a Victorian vessel docked here in the beautiful Victorian town of Belfast, Maine.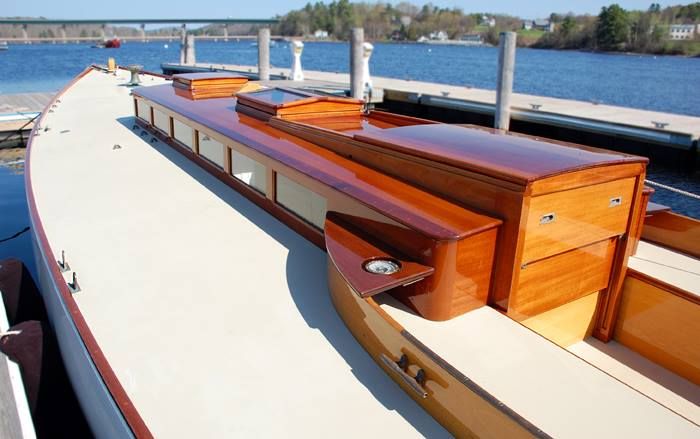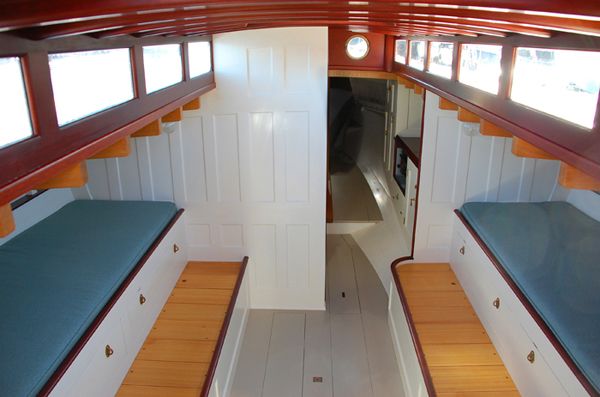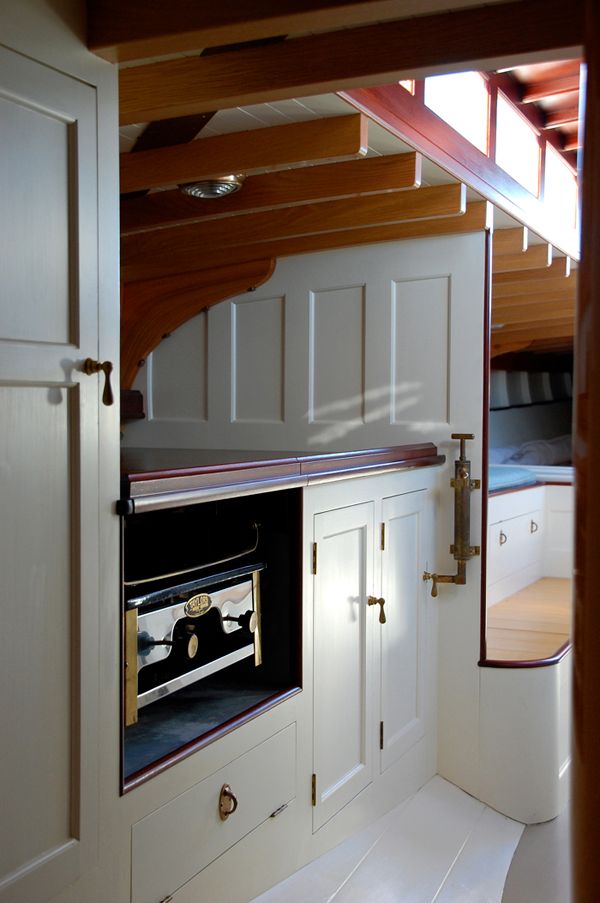 When I went to the Boat Show earlier in the year I put a deposit onto a motor, a Evinrude 75hp 2 stroke. I mentioned to them what I was putting it onto and the gentleman there told me I had better check my transom height as most of those old boat plans are made for the short shaft motor which isn't common anymore. When I got home I measured my transom and sure enough it is cut out for the short shaft and I needed to add at least 4 inches to the height. So if anyone out there is thinking of putting a boat together double check the plans for the transom height to ensure you cut it out to match the motor you will be getting.
Been hard at work getting the interior painted. Not going to say much other than I am one step closer and glad it is done. Cutting all of the edges and corners on the battens, frames, sheers, chines, stem,butt joints, cabinetry inside and outside took longer than the actual painting.
There is still some more finishing details to be done on the inside, but the bulk of it is taken care of and I can work on the rest at my leisure. Just want to get it usuable before summer time.